Taking down an Iron Man wannabe, holding his own against a Sentinel and saving the bacon of President Ronald Reagan — all while being a man of the people.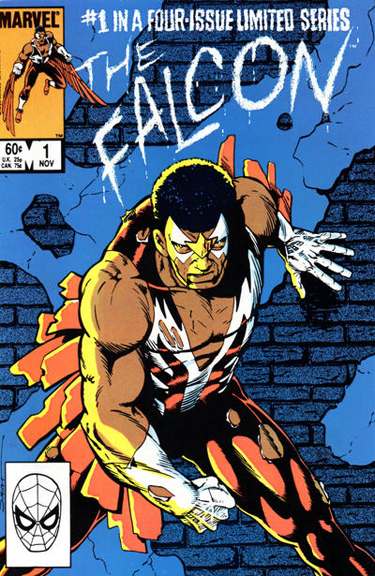 This four-issue limited series is part of the
AVENGERS: FALCON trade paperback —
a must-read for Sam Wilson fans.
That's not bad for The Falcon's first (and so far) only four-issue limited series. Not bad? Who am I kidding?!? All those things are what makes Sam Wilson such a memorable superhero -- not to mention a great man.
The 1983 series is just one of the many issues collected in
AVENGERS: FALCON
, published in 2014 to take advantage of Sam Wilson being in
"Captain America: The Winter Soldier"
— one of my all-time favorite movies — and getting the animated treatment in
"Avengers Assemble."
An even bigger highlight is Wilson/The Falcon's first appearance and being trained by Steve Rogers in
CAPTAIN AMERICA
No. 117 in 1969.
It's been said more than once that the biggest challenge facing any superhero is his or her enemies. What better to show what kind of man Wilson, what his character and hero he is than by putting him and Cap against the Star-Spangled Avenger's most vile enemy, The Red Skull (issues 118 and 119).
The Red Skull can say what he will about how he used the Cosmic Cube to put Wilson into the circumstances in which met Rogers and the two becoming best friends, but there's no denying Wilson is a man of integrity. As issue 118's title suggests ("The Falcon Fights On!"), he has the same never-give-up attitude that Rogers/Cap has; it's a philosophy The Falcon takes seriously. The Red Skull wants Cap and "Falc" to believe at least part of Wilson's personality is his creation. I call B.S. on that; why would the Skull "create" personality who is as hellbent on defeating him as his biggest foe?
Besides, you can't teach persaverance and doing the right thing. That's what makes Wilson a true superhero — not to mention a great man and
the right person to take up the Captain America mantle
, as he's doing now in
ALL-NEW CAPTAIN AMERICA
.
Yup, Stan Lee's story in
CAPTAIN AMERICA
Nos. 117-119 is one for the ages.
Luckily, Gene Colan's costume design for The Falcon isn't; the green suit with the yellow trim and highlights is horrendous. His later red-and-white design is much better and a more appropriate complement to Cap's patriotic costume. I've never been a fan of Colan's art, but he does draw a nasty looking Red Skull — perfect for the nastiest and most unredeemable of all of Marvel Comics' villains.
The Falcon's first solo back-up story from
CAPTAIN AMERICA
No. 220 (April 1978) is included in this collection.
The content is nothing notable — except the exceptionally lame-oh villain, a weak rip-off of the archer Hawkeye who says he wants to "become the greatest supervillain this side of Doctor Doom." But his greatest scheme is kidnapping Redwing, the falcon with the mental link to Wilson.
Keep having those dreams of Doctor Doom-level greatness, dude!
Gratefully, the story is only five pages long.
MARVEL PREMIERE
No. 49 (August 1979) is The Falcon's first full-length solo story. Despite solid pencil work by Sal Buscema, it's even more forgettable than the previous story, "… On a Wing and a Prayer."
J.M. DeMatteis' three-part "Snapping" back-up story in
CAPTAIN AMERICA
Nos. 276 through 278 always bothered me. And that feeling stands, even after having re-read it in the
FALCON
trade.
That's probably because I hate seeing a good man like Wilson revert to his "Snap" Wilson personality. DeMatteis' words, dialogue and the way he delivers such a punch-to-the-gut story in 18 pages is what sticks with you.
You see, DeMatteis' run with Mike Zeck on
CAP
is one of the first incarnations of the Star-Spangled Avenger I read as a new comic-bool collector. Regardless of how fantastic Cap is in the pages of
THE AVENGERS
or
THE INVADERS
, I always go back to the DeMatteis-Zeck version. That's the Cap on which I grew up; essentially it's "
My
Captain America" -- and
certainly one of the definite takes on the character.
Their rendition of Cap sticks with me -- as does their hard-hitting "Snapping" story.
(Another brief aside:
I chatted with DeMatteis during the 2014 Motor City Comic Con.
A real darling of a man; he's very down to earth. I was tickled I had the opportunity to tell him how much his Cap was My Cap.)
In "Snapping," DeMatteis succinctly summarizes the original "Snap" Wilson saga from
CAPTAIN AMERICA
Nos. 185 through 191 in just six panels through the voice of Wilson's sister. The dialogue -- most specifically Wilson's monologues as he wrestles with who he is -- is powerful stuff.
The combination of J.M. DeMatteis' powerful dialogue
and Mike Zeck's expressive art makes their
three-part "Snapping" story one to remember.
Zeck's art does much the same. Much like two of my other favorite artists, Neal Adams and the late Jim Aparo, he makes each facial expression count. I'm pained when I see Wilson's sister get a tear in her eye over her brother. It's just as painful to see the when Wilson looks like he's mad at the world and disgusted at himself.
We feel as liberated as Wilson does once he comes to grip with his situation. Seeing The Falcon take to the sky -- his only appearance in the story! -- is a thrill in the next to last page. That's the power DeMatteis and Zeck deliver in 18 pages.
No doubt, "Snapping" is a tough read for fans Sam Wilson and The Falcon. But it's also a must-read. Wilson embodies one of the things that rubbed off on him during his long partnership with Captain America -- that life can get you down, but there's no way it should keep you down.
FINAL ANALYSIS:
While
THE AVENGERS: FALCON
includes some defining moments for Sam Wilson/The Falcon, the tales from
MARVEL PREMIERE
and Falc's first solo back-up stories are utterly forgettable. Luckily, the limited series, Lee and DeMatteis deliver must-read stories for Falcon fans. And if you don't know a lot about Wilson, this trade is a good place to start.
Grade: B